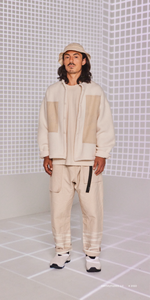 Experiment_08
Visual Record
New.Worlds unfold before us if we're ready to see them. 
We dedicated months of research to developing new means and methods of production. In the technical processes of making physical relics we uncovered opportunities for creativity and expression we might never have imagined on our own.
Our experimental nature bade that we follow the path as it revealed itself. We stand now at the gateway to New.Worlds
View Experiment_08
The Ongoing Experiment


Until today, Earth\Studies experiments have been produced in Los Angeles nearly entirely from deadstock fabrics. Experiment_08 drew our focus to India for the MP-103, MP-102, and MS-104, which were constructed in a family owned factory from existing fabrics. This transition has been inspiring, ensuring we can produce at the highest quality and with greater frequency, scaling up our Not_Waste philosophy to continue giving life and purpose to resources which may otherwise be wasted.